GH13030902
BFI | 14299
The London Lesbian and Gay Film Festival was founded by Peter Packer under the name "Gay's Own Pictures". It was renamed the London Lesbian and Gay Film Festival in 1988. The British Film Institute, Southbank, London, run the festival. The festival is usually followed by a tour of a selection of the films chosen for the main festival.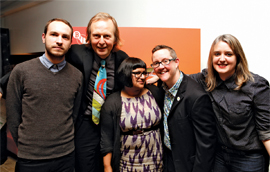 2013 festival programmers Jason Barker, Michael Blyth, Nazmia Jamal, Brian Robinson and Emma Smart | BFI | 14300
There have been calls for the name of the festival to be changed to also reflect the bisexual, trans and queer communities. This will be debated this year.
The 2013 Festival ran from 14 to 24 March at the BFI, London SE1.

SP