GH130414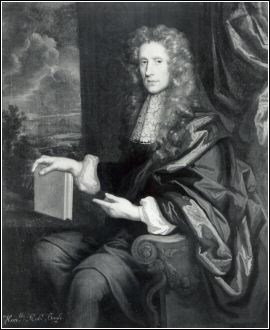 Robert Boyle, FRS, was born on 25 January 1627 and died on 31 December 1691. A fellow of the Royal Society, Boyle is regarded as the first modern chemist, and therefore one of the founders of modern chemistry, and one of the pioneers of modern experimental scientific methods; and is best known for Boyle's law, which describes the inversely proportional relationship between the absolute pressure and volume of a gas, if the temperature is kept constant within a closed system. But you already knew that. He went to Eton and then toured Europe meeting Galileo Galilei in 1641.
In 1644 his father had died and Robert inherited the estates, making him quite rich and he devoted his life to his many interests but especially science.
He died from paralysis just a week after the death of the sister with whom he had lived for more than twenty years.
Image: The Teeming Brain